credit: The Cardiff Kook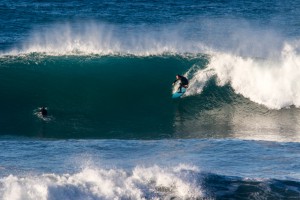 If you are Southern California surfer and are in need of surfboard repair or SUP paddleboard repair, there is a good chance you might have taken your board to "Ding King" surfboard repair shop in Encinitas, Calif.  owned by brian Szymanski. Standing on top of the infamous "Hill" on Westlake Street where many shapers and glassers got their start.
Ding King was the original surfboard repair facility in San Diego and is still the go-to spot for ding repair for all of San Diego North County surfers and some of the world's best surfers who trust their  equipment to Brian Szymanski and the boys from the Ding King.
How did the concept for "Ding King" come about? 
The Beacons Buttons (not to be confused with Hawaii's Buttons) is the original "Ding King" who started back as a fin foiler at Bahne Surfboards/ Fins Unlimited. You can still find "Buttons" at the shop on Saturdays between 9am – 12pm talking, washing his car, and helping customers. (Even retired he can't get away)
How long has Ding King been open for business?
The store was established in 1974.Back when there was nothing between the infamous  "Hill" and the beach. "The Hill" as referred to by locals has seen the likes of Tony Channin of Channin Glassing, Shapers Mike Diffenderfer, Pat Curren,Gary Mcnabb of Nectar Surfboards, Tom Eberly, and Jim Philips "The Genius" who had an article in "The Surfer's Journal". That's the short list, if you shape,glass or do any kind of board production in San Diego you've worked on "The Hill". There's a lot of history and I am stoked to be a small part of it!
How long have you been shaping for? Did you have any mentors?
I was surfing for Sunset Surfboards in the eighties and came up to The Ding King looking for work. I started fixing dings for Buttons and then Tom Eberly discovered me. He took me under his wing and showed me the ropes. I Started with finning, hotcoats, laminating,  sanding just about everything. Pointed me down a carrier of production board building. Then it was all about making myself my own boards, Tom was great at teaching me to shape, those are some great memories!
How long have you been shaping for?
About  24 years now. I started when I was 20 years old.
How did you get into repair work?
As a team grom for Sunset Surfboards I got a job fixing boards at there old shop on 101.The same place that Moonlight Glassing originated. I always have repairing my own boards as well as my friend's. From there I started building boards, and shaping custom boards for myself and others. I was renting a shaping room from Buttons at The Ding King for a while until 2002 Buttons wanted to retire, so I bought the business and took over where he left off. I am stoked to see him every Saturday morning! and he's happy to see the Ding King growing.
Do you repair Balsa Wood surfboards and other types of boards?
Yes, we repair everything. Regular, epoxy, carbon and wood surfboards and stand up paddleboards! We have 5 dedicated employees at Ding King that I am proud to work with. We have a great group of guys here that makes work fun and interesting at times!
How long does it usually take for repairs on average?
We take pride in our work and craftsmanship. The majority of our boards that are repaired usually have a 2-5 day turnaround. Basically if you brought your board in on Monday you'd be surfing on it by Friday!
You also make custom surfboards, how did that start? 
Eberly, he was my shaper at the time. So Tom being "Eb a Leisure" lagged on purpose to motivate me to learn how to shape for myself. I just could not wait for him, so I was forced to learn. At a point in my life I refer to as "Back in the Hay Day" I was a production laminator and was doing finish shaping for a variety of  labels and pumping out about 15 lams and then shape for the second half of the day.I currently  run the Ding King, shape for Channel Islands, Design Racing SUP's for Starboard,and continue to work on new innovations.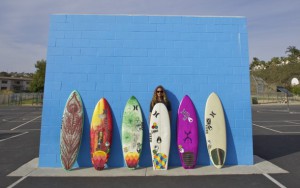 What is your favorite board right now?
It's one of the boards I've been working on with Rob Machado
Dimensions:  5'5" – 18' ¾" –  2' ¼"
When Rob's in town he gets into shaping at the shop and we collaborate quite a bit. We end up having fun and designing some cool stuff. Check out the "Board Eat Board" segment in our custom boards section.
What is your favorite spot to surf locally?
I am a Cardiff guy so I love surfing Suck Outs, Seaside Reef, and  Swami's. I also like Baja Malibu and reef breaks down in Mexico when we get a big swell!
What is it about Encinitas that you love to call home?
I grew up in a tight knit community of Encinitas called "Cardiff–by-the-Sea". I remember as a grom bombing Birmingham in Cardiff with my surfboard in hand. There was no traffic, I would just put my board out to the side to slow down and pull it back in to go faster.It was great growing up here. Being fortunate to have traveled the world I always come home and realize there is nowhere better than Cardiff. The weather is ideal it has that small sleepy beach town vibe,there's a variety of things to do. unique food and restaurants, ripable surf and great people! Home doesn't get any better than that!
Call us for all your Ding Repair Needs